What is Inbound Marketing?
Inbound marketing is based on a content creation strategy that attracts visitors to your website and blog, to convert them into leads and then to conclude them as clients, through different techniques such as marketing. automation, lead nurturing, engagement on social networks or blogging.
This marketing strategy is facilitated by the integration and adoption of all-in-one reporting tools that prove the ROI of marketing efforts.
The term "inbound marketing" was coined and used for the first time in 2006 by Brian Halligan and Dharmesh Shah, co-founders of HubSpot.
Internet users are interested in quality content, which can strongly influence their online buying behavior. This is what Dharmesh Shah found by seeing that the traffic generated on his blog on start-ups could be easily monetized to promote a software he had developed himself.
Shortly after, Brian Halligan and Dharmesh Shah joined forces to found HubSpot and the term "Inbound Marketing" quickly became popular.
Differences Between Inbound and Outbound Marketing
Outbound marketing is based on the use of non-targeted and intrusive ads.Inbound marketing aims to generate leads by offering them interesting content, adapted to their position in the buying process.
Inbound marketing has emerged in response to the declining effectiveness of traditional marketing (or outbound marketing). Outbound marketing is based on the use of advertisements, considered by many Internet users as too intrusive.
A few years ago, outbound marketing suffered a decline: it became more difficult to convince a prospect of the effectiveness of a solution or a service by using only advertising (TV, radio, magazines , etc.). If outbound marketing no longer has the desired effect, it is because the marketing messages are broadcast to a mass audience, without offering a personalized experience. Indeed, targeting is particularly difficult on traditional media, because it is often impossible to take into account the profile of the person (industry, role ...), nor his commitment: was it interested in this topic? ? What are his needs and challenges? Was she already in the decision phase in the buying process?
Outbound marketing targets everyone without distinction: the prospects but also a large majority of people who will never be customers because they do not correspond to the target targeted by the message. The traditional marketing budget is therefore generally high and offers a low return on investment.
Inbound marketing is, on the contrary, a technique whose objective is to generate the interest of prospects by offering them interesting content adapted to their position in the purchasing process. Inbound marketing is therefore used to offer a unique experience based on the profile and behavior of each prospect. Rather than doing mass marketing, inbound marketing adopts a marketing strategy to personalize the customer experience.
By publishing the right content, at the right time and in the right place, your marketing will gain relevance for your customers. Inbound marketing is a methodology that aims to produce marketing content that your audience appreciates.
The essential elements of an inbound marketing strategy
Before adopting inbound marketing, you will need to understand and use four essential elements to implement an effective strategy:
Define buyer personas

Create quality content

Set up an optimized website

Take advantage of marketing automation
Methodology and steps to set up an inbound marketing strategy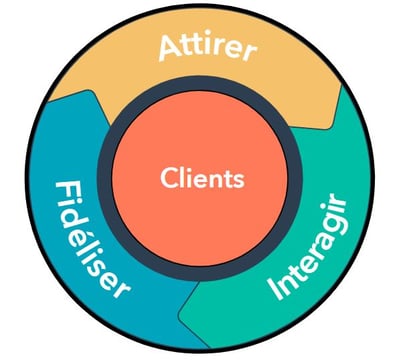 To get started in inbound marketing, it is essential to understand the inbound marketing methodology which consists of four distinct steps, which adapt to the buying process of your audience.
1 - Attract visitors to your website
The first step in a good inbound marketing strategy is to be able to attract visitors (and potential customers) to your website. Increasing the volume of traffic is not the only indicator to take into account to ensure the success of this step. You will mainly need to make sure that your website or blog generates quality traffic, that is, potential customers who have a real interest in your product or service.
But how to identify these ideal customers? To answer this question, it is necessary to determine the buyers personas of your company. Buyer personas are fictitious representations of your ideal customers.
In order to attract these visitors to your website, several tools and techniques can be used, such as SEO, content creation or sharing on social networks.
Search for keywords
Searching online often means using a search engine like Google or Bing to find the answer to a question. Choosing the right keywords in the content creation phase is especially important in order to reference your web page or blog post on the first page of search engine results.
Identify long-haul keywords for which you want to reference your web pages and blog posts, then identify the competition for this keyword and the content to include in your web page to answer all your questions. audience on the subject concerned. A search for keywords upstream of the production of your content will allow you to maximize your SEO chances for your web pages and thus increase the natural traffic on your website or blog.
Blog articles
The use of keywords is closely related to your content strategy. Adopting a blog is the best way to start setting up your content strategy because it will allow you to simply attract traffic to your company's domain. In addition, blog articles will also increase your online visibility, as well as strengthen the authority and expertise of your brand.
Social networks
If your prospects and customers use social networks, then you will need to be present, because it is also where they receive the information necessary to make their decision. Social networks are strategic places to share content, such as a blog post for example.
In addition, opinion leaders use social networks to give their opinion, making it the perfect place to start a conversation with them to make your brand more human. Of course, your company can not easily be present on all available social networks (Facebook, Twitter, LinkedIn, Instagram, Snapchat, Pinterest, etc.) but choose those that are best for your audience.
Web pages
For a successful marketing strategy, your website must be exemplary. Ideally, it will have to adapt to the profile of the person who visits it and to overflow with contents of quality in order to allow the conversion of the visitors into prospects. SEO optimization and user experience are especially important when setting up your website.
Online advertisements
Often forgotten in the initial phase that seeks to attract visitors, online advertising as done through Adwords, Linkedin or Facebook, is often used in addition to generate more traffic. It is certainly a paid tool that is not essential, but even with a small budget you can reach a larger part of your fans or subscribers on social networks.
The algorithms of most social networks do not reach your entire audience, so targeted online advertising can work well when used in addition to other traffic generation techniques . Remember to target your ads to a specific group of people, otherwise you risk falling back into the traditional pattern of outbound marketing.
2 - Convert visitors to leads
Now that the prospects you are interested in have visited your site, it's time to take them to the next step of the buying process and convert them to leads. Indeed, if all visitors leave your website or blog after reading only the content that led them without further action, the work done will not bring results. The objective of the conversion phase is therefore to qualify the visitors as leads and to collect the data necessary to carry out a relevant follow-up. Again, several tools are needed in this phase:
Call-to-Action
Call-to-action (or CTA) is an indispensable button or image to convert your visitors into leads. It will allow you to redirect to a landing page where visitors will be able to receive an offer of content in exchange for information. The CTA must be visible enough to attract the visitor's attention and attractive enough for him to click on it.
Landing pages
The landing page is the page where visitors arrive after clicking on a CTA. This page must be as simple and explicit as possible in order to encourage the visitor to fill out the form.
There are several ways to optimize your destination pages to improve the conversion rate: remove the navigation menu, add an image, a text with the content of the offer, a call-to-action and of course a form to collect information about your visitors.
Forms
The form is the means used to qualify a visitor as a lead. By filling out the form, your prospects give you information about who they are and what interests them. Collecting this information will allow you to better segment your database, as well as to target and adapt your communication. The information collected will also be valuable for members of the sales team who can use it to directly offer solutions tailored to the challenges of the prospect.
Contacts
Do not forget that every contact in your database is a potential customer, so you have to take care of it. It is possible to centralize all the profile and contact information of the contacts, thus storing the data of each contact on a dedicated form will optimize interactions with them.
3 - Conclude leads in clients
Now that the leads are identified, we must go to the next step: convert them into customers. This is the stage where marketing automation, lead scoring and closed loop reporting come into play. Here are the recommended tools to put all your chances on your side in order to close leads in clients:
Lead scoring
Now that all these leads are in your database, how do you know which ones are willing to have a conversation with the sales team and which ones still need to receive more information about your product or service?
Lead scoring is a scoring system to prioritize the leads on which salespeople must invest time because they correspond to the criteria defined by the marketing and sales teams.
Segmented list
When communicating with prospects, it is also especially important to segment your lists. You can segment them according to different criteria in order to better adapt the marketing emails that you send them. Knowing your prospects to perfection is important, it will allow you to use this information to segment your entire database and target your prospects with a personalized message. You will be able to increase the opening rate and the clickthrough rate on your e-mails.
Emails
If your prospect is not ready to have a conversation with a salesperson or his score is low, can you maintain the relationship to create a level of trust through lead nurturing? The e-mail is a tool not to neglect, which is very effective to engage your existing leads.
Send content to your prospect that interests them and how your product or service can help them meet their challenges.
Workflows
Once you have acquired the tools to target your audience and create e-mails, why not automate the marketing process? Indeed, the marketing automation will allow you to gain a not insignificant time during the communication with your prospects. The creation of workflows is the ideal solution to automate the management of the customer journey according to the commitment with your brand and thus to eliminate the manual and repetitive tasks.
Marketing report and closed loop sales
Do you know which marketing campaigns generate the best return on investment? What are lead conversion rates for each traffic source and how much revenue have your efforts generated? Thanks to a reporting tool integrated into your CRM, it is possible to analyze the performance of marketing and sales actions and to put in place action plans to possibly improve them.
4 - Retain (future) customers throughout the sales process
Loyalty is the final phase of inbound marketing methodology and this phase is often ignored or undervalued. Yet acquiring new customers would cost nearly 7 times more than retaining them. The acquisition work will therefore not be profitable if the customer retention rate leaves something to be desired.
It is possible to satisfy and retain your current customers, especially through the use of various tools:
Smart Content
By presenting to each contact offers that change depending on the buyer persona and the phase of the contact's purchase cycle, you will be able to improve the user experience and be consistent in the message communicated. A prospect or a customer with a good experience is more likely to have a positive image of the brand and to promote it.
Social networks
Social networks are no longer simply used to attract visitors to a website but also to maintain a relationship with an audience. For example, many brands have set up client on social networks (on Twitter for example). Being present on social networks, especially in the last phase of the inbound marketing methodology, will allow you to respond to comments, anticipate certain publications and even provide real-time customer service. This will give you a higher level of customer satisfaction.
Marketing automation
Finally, if segmented lists, e-mails and workflows are used to close a sale, they are also very good tools for the customer retention phase. Marketing automation will allow you to stay engaged with your customers in the long-term with quality personalized content.
What do you need to know about inbound marketing?

If the techniques and concept of inbound marketing are new to you, find out what its benefits are, how to adopt it, and what the differences are with other content-based marketing strategies or content optimization.
The benefits of inbound marketing
Have you ever wondered why your company has not yet implemented an inbound marketing strategy? There are several reasons: Your marketing team may not know all of its benefits, your colleagues may not understand how content creation can generate revenue, you may think that you do not have enough time to set up an inbound marketing strategy and internal capacity to manage this new content strategy.
If so, it is likely that you have not yet considered all the benefits that an inbound marketing strategy could bring you. Here are a few :
Inbound marketing is profitable

Inbound marketing is sustainable

Inbound marketing to build authority and brand

Inbound marketing to align its marketing and sales teams
1 - Inbound marketing is profitable
The first thing that comes to mind for many marketers or CEOs is the cost. Yet inbound marketing can generate leads at a much lower cost than traditional marketing: a report on the state of inbound marketing has shown that companies can generate leads through inbound marketing using only one third of the traditional marketing budget required for similar results.
Inbound marketing is therefore very effective for companies that meticulously monitor their marketing budget because it can prove the return on investment of marketing efforts through a closed loop reporting system.
2- Inbound marketing in figures
Only 17% of marketers say that outbound marketing can generate good quality leads (Inbound Marketing Status Report)

Companies that have adopted inbound marketing are 4 times more likely to consider that their marketing strategy is effective (Report on the state of inbound marketing)

5 months after the implementation of a successful inbound marketing strategy, the average cost of acquiring a lead drops by 80% (HubSpot data)

Inbound leads cost 60% less than outbound leads (HubSpot data)

Determining the return on investment of an inbound marketing strategy is the major challenge for 25% of marketers (HubSpot data)

Companies that have adopted inbound marketing generate 54% more leads than those who do traditional marketing (HubSpot data)

Companies that have a blog and a content strategy generate 55% more traffic and 126% leads than those who do not blog (HubSpot data)

Companies that have adopted marketing automation generate 451% more qualified leads (HubSpot data)

3- The differences between inbound and content marketing
Inbound and content marketing are two techniques that rely on the implementation of a content creation strategy. However, some elements separate inbound and content marketing.
Content Marketing is about creating quality content for a targeted audience to increase your website traffic and online visibility. Unlike inbound marketing, content marketing does not take into account the concepts of lead generation, sales and marketing team alignment, or even closed-loop reporting.
Content marketing is therefore focused primarily on the first phase of the inbound marketing methodology: attracting visitors to your website, while inbound marketing goes further and aims to ultimately lead customers to customers through a content strategy.
4- The differences between inbound marketing and growth hacking
Inbound marketing needs to be differentiated from growth hacking. While inbound marketing aims to close customers with a content strategy, growth hacking has a goal of quickly accelerating the growth of a business. Even if these two objectives are similar since they wish to increase the company's revenues, these two marketing techniques do not use the same tools to achieve them.
Inbound marketing promotes a content strategy that will allow the brand to be more visible on search engines and social networks. Growth hacking is based on optimization techniques in several areas that will allow the company to maximize its performance in different areas of predilection (traffic acquisition, retention of users ...).